So she wants to have anal sex.  If you both do it right, you'll end up loving it! But you still feel shy, weird, grossed out.
First things first. Identify what's making you feel reticent. The first reason some of use don't partake in anal sex is because we think it's "dirty."  It's not.  The  beginning of your anus that is involved in anal play usually has no fecal material.  But if you want to feel squeaky clean, you can always use an anal douche.  Our boys at Toys of Eros, experts in anal sex, gave us some important hints and info about enemas.
Don't start with a finger:  Many newbies think the way to start exploring anal sex is with a finger.  Don't.  A finger isn't necessarily smooth and thin. There are toys that are smaller and smoother than a finger.  Choose a vibrating slim anal toy to relax the anus even more.  Lesbian Gear favorites are the Silicone Pop Beads, the O'Boy, and the Harvey. They are all the size of a finger, made of safe silicone material, and vibrate.
The three most important ingredients of anal play are relaxation, lubrication, and communication.
Relaxation:   The anus is made of two separate muscles that are about a quarter inch apart. The external muscle is under your control, most people can tense and relax it fairly easily. The internal muscle is controlled by the same part of your nervous system as your breathing and heart rate. The more relaxed you are, the more relaxed this muscle will be. Stress and anxiety, including worry that anal sex will hurt, can make your anus tighten, resulting in less pleasurable or possibly painful anal sex.
Numbing creams might make the nerves in the anus less sensitive, but they won't help the muscles relax. They may make it more difficult to notice uncomfortable sensations, which can result in irritation or damage to the tissues. That having been said, there are a couple of creams  and lubricants that are safe to use, and can make anal sex more comfortable for a nervous beginner.  Vibration also creates muscle relaxation, and we'll get to that later.
Lubrication:  Unlike the vagina, the rectum doesn't produce lubrication, so everyone needs lube for anal sex.   Lubricant is also perfect for anal foreplay.  Put lube on your fingers and gently stimulate the opening of her anus first.  Getting  her turned on is a great way to help the anus relax. There are different kinds of lubricants for anal sex, but the best we have found are Uberlube and Slippery Stuff.  First-time anal players must get used to these feelings, so the slower you go, the better.
Communication:  Being able to talk with her about anal play is essential to making sure that you're both enjoying it. Check in with each other about your physical comfort, what sensations feel good, or if you want to try something different. Newcomers to anal play might have difficulty describing exactly what they want. Try offering different options and ask which feels better. Even people who have lots of anal play experience find that talking while playing makes it more pleasurable. And read books and blogs on the subject!
Introduction to Anal Toys
Anal toys are the way to begin to explore anal sex.  They are smoother than a finger, come in the proper sizes for maintaining comfort, and the angle and speed can be controlled better than a finger.   Beginners should start with a slimmer, vibrating toy for easier insertion. Anal toys have a base to prevent the toy from being sucked in past your sphincter muscle.  If that happens, retrieving the toy without a speculum is difficult!
There are 3 major types of anal toys. Butt plugs, anal beads, and anal dildos.  All three types also have vibrating versions. We suggest the vibrating versions for beginners. It gives  you the full feeling without stretching the tissue, and relaxes the anus. and it feels even better than the non vibrating type!
Beginners should always start with a vibrating anal toy.  If you end up not enjoying the vibration, just turn it off.   The toy is still perfect to use with the vibration turned off.
Vibrating Anal Toys:  Vibrating anal toys are our first recommendation for everyone, and most especially for beginners. Vibration  relaxes  anal muscles, and makes it more enjoyable for nervous first timers. Vibrating anal toys also create more intense and fuller sensations.  A very small plug that vibrates will "feel" much bigger than it is, without stretching the tissues of your anal canal.
The area around your anal opening is extremely sensitive due to all those excitable nerve endings, and vibrations can act as a wonderful intensifier alongside butt plugs, dildos, oral sex, masturbation or on their own. Vibrating toys are the perfect warm-up for anal sex with her fingers, her dildo, or her fist. Anal beads, anal plugs, and anal dildos all come in vibrating versions. You can also use a vibrating anal toy on your clitoris or vagina. If you do that, it is  doubly important that you clean it thoroughly, using with bleach or boiling water. IMPORTANT: You will get an infection if you don't sterilize your dildo in between anal and vaginal sex.
Butt Plugs: Butt plugs are designed to remain stationary inside the rectum, and stay in place as the anal muscles grip the neck, creating a sensation of fullness. They're hands-free and can be combined with any other sex play you like.  During orgasm, anal muscles contract along with the muscles of the vagina , so plugs intensify pleasure.  When you wear a butt plug during vaginal penetration, the feeling of fullness, and the intensity of orgasm,  is exaggerated tenfold.
These are the best, most comfortable plugs we've found.
  Our #1 pick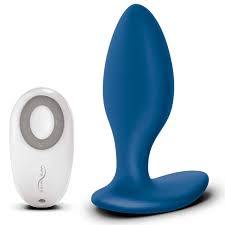 Our #2 Pick:
The Novice is the smallest, most luxurious plug ever designed.  The silky silicone finish is enough for  nervous beginners to actually want it inside themselves. Rechargeable and remote controlled, it also has the all important vibrating settings for all tastes.
Our #3 Pick

The O'Boy is slimmer than a finger, and has a strong removable bullet.

The angle is also perfect for prostate play.
Our #4 Pick
Our #5 Pick:
Tiny Bubbles: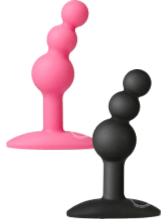 The tiniest plugs of all, these don't vibrate, but these also can't scare away even the most intimidated beginners.
Anal Beads: Anal beads are exactly what they sound like — a series of beads that are either strung together on a cord or attached to a stem and inserted into the anus. They stimulate the anal opening because your sphincter muscle opens and closes over every bead. For some people, this feeling alone can induce orgasm, and for others, the removal of beads during orgasm acts as a great intensifier.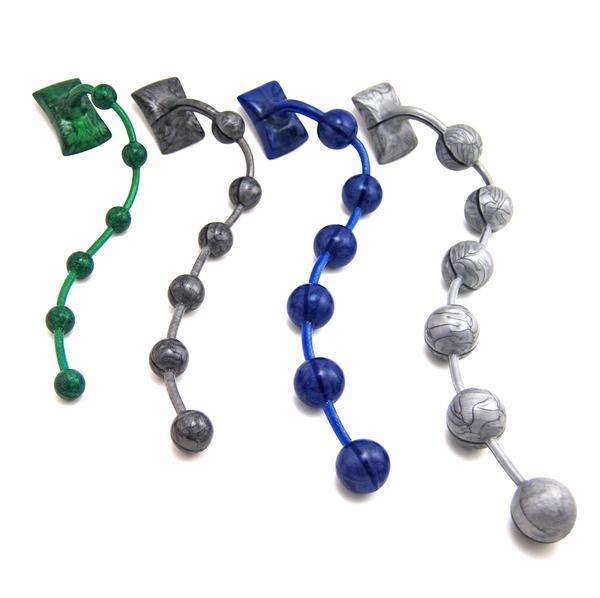 The classic way to use beads is to and gently slide each bead past the sphincter until  the entire strand of beads is inside the anus.  The most sensation occurs when you pull the beads out.  Some people prefer to do this as they get close to orgasm, while others enjoy doing it during orgasm. You can also experiment with pulling them out slowly or more quickly, although don't go so fast that you can't savor the sensations.
If you are not sure if you will like the feeling, start off with an inexpensive  strand of silicone anal beads.  Do not use plastic, rubber, or any other material except silicone, steel, or glass.
If you know you like anal beads and want to own a permanent string of beads, buy the Vixen silicone gem beads.  They are the very best anal beads ever made.  They are the perfect weight, the perfect flexibility and texture, and they come in 3 sizes.  They are $100, but well worth it.  Isn't your butt worth hundred bucks?
Anal dildos:   An anal dildo is really just a dildo that's  thinner than the one you would use for vaginal penetration.  You can use all the dildos you already have, assuming your dildos have a base for a strap-on, and are made of silicone.  If they don't, don't use them. Hold the dildo in your hand first, and when you get the hang of it, strap it on!  Using a strap on and thrusting into her ass, (gently at first,) can be a whole different turn on and an intense head trip.
Most of us are used to dildos used with harnesses for vaginal sex, and they are fine. But some of us like dildos that have ridges or bumps for G-spot and vaginal play. They may be too rough for anal play, so try something smoother.  And there are also dildos  made especially for anal sex that have bubbles or beaded shapes, which are fun because of the way each bubble interacts with the sphincter muscle.  The Mistress,  s a dildo that also vibrates, and is a first choice  for women who want to strap it on for anal sex.  It's thin, but not as thin as some others.   The Harvey is the size of a finger, and can also be used in a strap-on.
Lastly, Relax and have fun.